Golden Globes' Blah in Black - Worst Dressed.
I really liked the "Bold, Black and Beautiful" dress theme at this year's Golden Globes Awards after the "Me Too" movement. The idea behind it was to celebrate feminism, girl power and female equality. Black is sexy. Black is classic. Black is bold. Black is beautiful. Black is edgy. Black is classy. Black is anything but boring. Every one can wear black and make it work because you can do so much with black. Everyone can rock black. Right? Right?! Well actually it is not. There were far too many badly-dressed women at this year's 75th Golden Globes Awards. I was actually kind of shocked and disappointed. I posted about Golden Globes' Best Dressed a few days ago. But today here is a recap of some of the Worst Dressed at the 2018 Golden Globes (and I didn't even count the men lol).
THE WORST DRESSED OF THEM ALL.
By far the worst dressed of the night was Blanca Blanco. Clearly she didn't follow the dress code and wore her favorite color, red. And it wasn't this decision that bothered me as much - she wore red, whatever. It was more about the kind of gown she wore. Blanca is the worst dressed, not only because she wore flaming red which you could notice as far as a mile away. And to make matter worse it was in velvet. But even worse that her gown was super sexy, with a super plunging neck and thigh-high slit that almost made us see her you-know-what (was she even wearing underwear)?! This gown left very little to the imagination and even if the dress code wasn't black this year, I don't think it is a gown made for Golden Globes. The Grammy's or AMA's yes! This woman is beautiful and has a killer body but almost always makes it in the worst-dressed list. She always exposes too much. She has poor taste and often makes herself appear cheap.
Oh come on Debra, you are back on Primetime TV, your show is a hit. "Will and Grace" was even nominated for a Golden Globe but seriously this is all you could muster for the Golden Globes?! There were several Hi-Lo Tunic/Dresses Over Pants but her ensemble was by far the worst. Her hair and makeup looks gorgeous though.
I think Connie is a fantastic actress and I am even loving her new show "9-1-1" on Fox. I loved that she sort of went for a sporty athleisure-inspired look. But I don't think it was the right sweatshirt. Maybe a sweatshirt that was plain black or with a touch of lace would have been better. And I know she meant to go for a positive message with "Poverty is sexist" but to me this isn't funny, positive or even inspiring. I am sorry but this was a miss for me.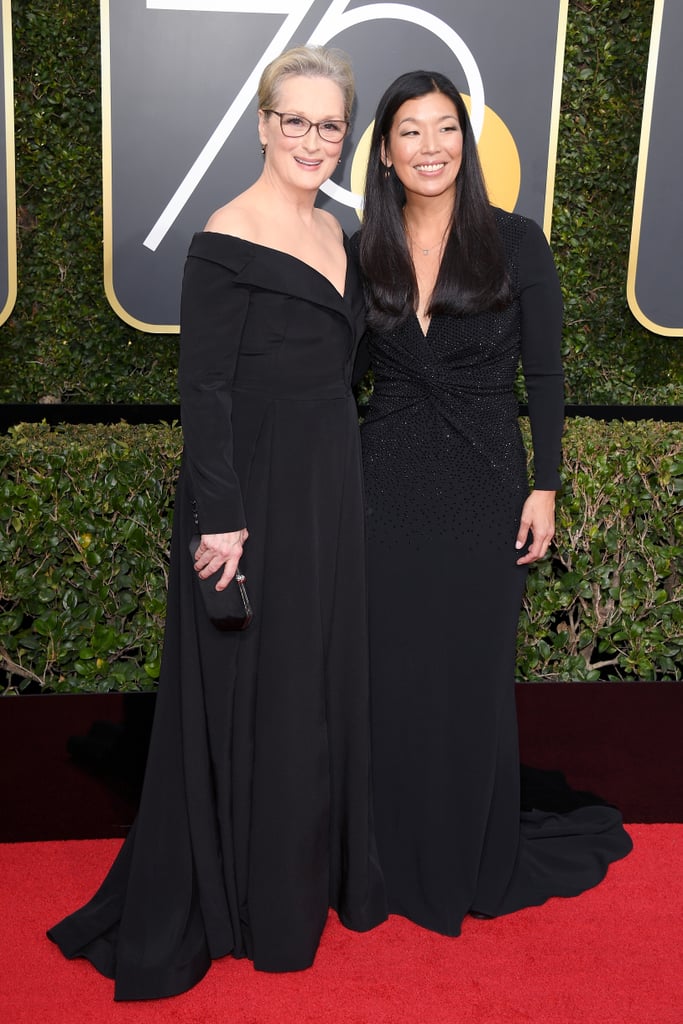 Why does Meryl wear these opera-collar, off-the-shoulder gowns all the time?! First of all this particular black gown does nothing for her body and isn't flattering on her. Secondly, we have seen this same type of dress a million times over on Meryl. I hated it. And I didn't like her makeup (super plain) or hair either.
Another celebrity who didn't follow the dress code. Barbara's gown almost made it to the good-dressed list. But her gown was so huge and had so much going on. Oversized feathers, beading, floral print, floral applique. I feel like the gown ate her up. I appreciate the design, all the beautiful work and haute couture appeal of this dress. I also love all the mix of pastels but if there were fewer details, it would have looked 100% better. Barbara missed this one.
I love how Kelly Clarkson sings, she has a great voice. But she insists on wearing clothes that are not flattering on her at all like this matronly ugly dress. The dress adds so much volume and makes her appear 2 sizes bigger and Kelly is pretty voluptuous - she doesn't need the addition of extra pounds. The gold long sleeves are fugly and make the dress even less appealing. I don't know if Kelly has a personal stylist or not. If she does she needs to fire her/him and if she doesn't have one, she needs one ASAP.
Ehhh, I don't quite hate the dress but I dislike the dress on Emma. I appreciate the high sleeves and high neckline on the dress - haute couture details. Actually the dress is pretty. But I don't like how this dress looks on Emma. She is too petite for such a dress. Better suited for a curvier body. I also prefer Emma as a blonde or blonder. Sorry, not this time.
Chrissy is one of the fewest plus plus-size women in Hollywood and she plays an important role in one of the most-watched TV shows "This Is Us". I am sure she can afford a better dress and a stylist. This black dress is an ugly velvet sack, made even uglier by that bow-like sequined detail - too long, shaggy and weird. I also hate the length of this dress. Is it supposed to be a maxi but looks like a midi because of Chrissy's size?! Or is it a Midi Dress?!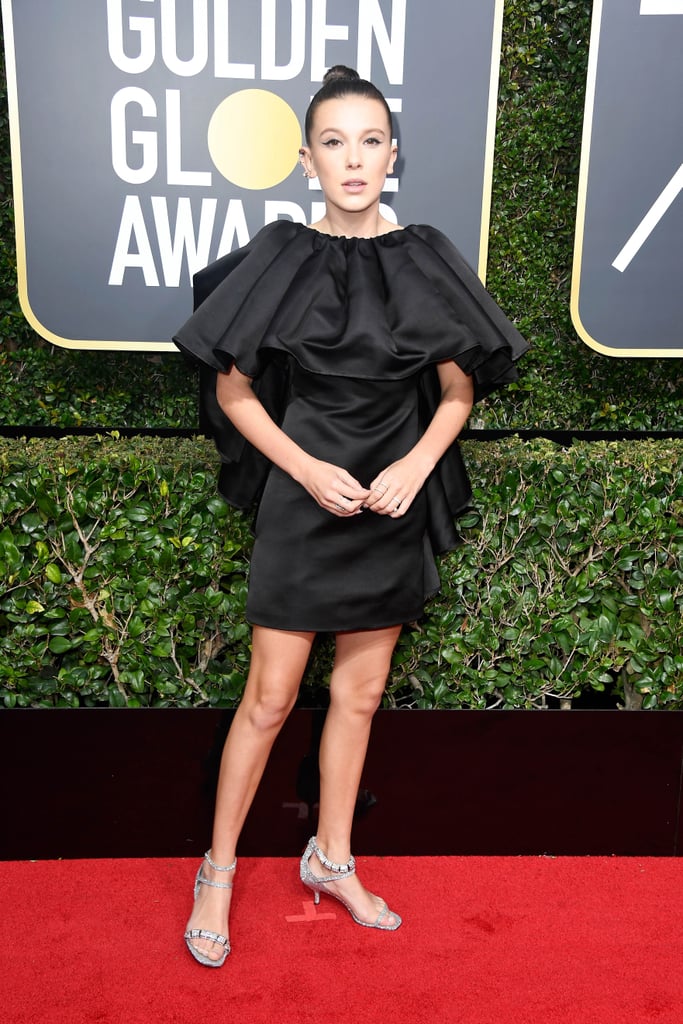 Millie Bobby Brown.
When I found out Millie Bobbie Brown is only 13 years old I was flabbergasted. This short dress makes her look at least 20-21. Her frame is frail and super fit but that oversized ruffle which covers more than half of the dress, makes her look even thinner and not in a good way. Millie is a beautiful girl who I found out plays on the hit show "Stranger Things" which I don't watch. I am sure she would have looked a million times better in a different dress. The ruffles on this Mini LBD make her arms look like they don't even belong to her body.
First of all Catherine looks stunning in this beautiful, sheer lace gown. It is a beautiful dress too and she works her curves. She looks amazing for her age. But with that said, I felt the gown was a little bit too sexy for this particular event. And I felt it wasn't appropriate for Catherine to wear this since she presented an award with her father-in-law Kirk Douglas. Her father-in-law is 101 years old and when they presented, he was in a wheel-chair. I didn't like it at all that Katherine's see-through crotch reached Mr. Douglas' eye level. It felt disrespectful and inappropriate. Again Katherine looks stunning but not the right dress for her alongside the very elderly Kirk Douglas.
America Ferrera and Natalie Portman.
Two beautiful and talented actresses but I was on the fence about their dresses. First of all, America is pregnant and she should embrace her pregnancy. I think this pretty and simple black sequined dress would have shown her baby bump better had she taken off that ugly black blazer. The blazer was unnecessary. America is pregnant for the first time and she should enjoy it. Natalie on the other hand was very subdued, too simple and a little matronly-looking this year. I liked the neckline of this dress but that's about it. With cap sleeves this gown would have looked so much younger and prettier.
Was SJP or Carrie Bradshaw attending the 75th Golden Globes this year?! I cannot tell. While this midi full-skirted dress was pretty, I don't think it was so unique for Sarah Jessica Parker. It was very Carrie and the dramatic sleeves make it look too retro and like she committed a fashion faux pas.