Hello All and Happy Thursday. Today, I invite you to join/link up with the Gorgeous Blonde Bombshells ELLE from Living in Color and JACQUELINE from Stylin' in St. Louis. These Beautiful, Stylish Ladies run a Link Up called "Spotlight Weekly" every Thursday. Each Thursday is themed and this week the 'theme' is Faux Fur. It is my pleasure to be co-hosting with them. If you haven't yet followed or seen their blogs, RUN to their websites and start following because you won't be disappointed. They both have Great Styles and I seriously want everything from their closets, head to toe. It is My Absolute Pleasure to co-host with them today. =)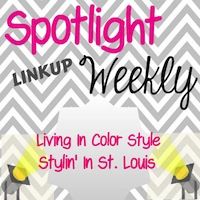 I was ecstatic to be a Guest Host today, especially since the theme was Faux Fur. Both Real & Faux Fur are a great Trendy item/texture- though I believe it to be more Classic - for the cold seasons. Whether you do it in a heavier dose like a coat, vest or jacket or sport it in a smaller piece like fur-trimmed boots, scarf, hat or gloves, it looks rich, warm and elegant. I do not own a lot of this trend and most of the pieces I own are back in the States.
Here
is how I last styled some Faux Fur. Today was a great opportunity to sport my Beautiful Red Scarf which has been in my closet for a bunch of years (and it has costed no more than 15 bucks, if less). It is cozy, chic, girly and perfect for the Holidays. I love that the scarf has an inner loop where you put one side of it inside the other. Makes it look more tailored and it frames your neck, perfectly. With the Scarf in mind, I built the rest of this Outfit and wore it for a Weekend Date out with my Husband. Everything came together perfectly.
There are some Rich Colors here too: Navy, Fuchsia, Purple, Cognac & Red.
There are a lot of trends here: Faux Leather (Jacket), Faux Fur (Scarf), Plaid (Button-Down), Ankle-Zippered Pants (Jeans), Animal Skin (Alligator Pumps), Monograms (Clutch) but I think it all worked out together for a Look that is Polished, Chic, Understated, Elegant, Sexy, Colorful, Bold enough yet not Circusy. What do you think? Thank you all for stopping by and for linking up with me and the Ladies, today. =)
Fuchsia+White, Gingham/Plaid, Long-Sleeve, Button-Down Shirt: Aeropostale.
Indigo-Purple, Faux Leather Jacket w/ Zippers, Pockets & Belt on the Waistline:
Bebe.
Dark Navy, Skinny Blue Jeans w/ Zippered Ankles: The Limited.
Deep Red, Soft, Faux Fur, Loop Scarf: Old Navy.
Bright Pink, Geometric-cornered, Circle, Stud Earrings:
Avon.
Cognac, Leather, Braided, Skinny Belt: The Limited.
Chocolate-Brown, Real Leather, Monogrammed Clutch: Tommy Hilfiger.
Cognac, Faux Alligator, Peep-Toe, Cone-Heel Pumps: Nine West.